Finding that online bargain.
We all like to save money and buying online is one way; you might think it's the best way to save a dollar or two. Most if not all of our service calls are for repairs to brand new scooters purchased on the internet.
| | |
| --- | --- |
| | Most of these online sales companies are just call centers churning out orders offering FREE this and FREE that. Here are some of the great online offerings and Spin! from some of the top mobility suppliers. So you've been enticed by the thought of all these FREE gifts they want to give you like cup holder, flag and armrest pouch now comes to the real meat of your online purchase, the Free delivery |
| Damaged in Transit | |
FREE Delivery...
Actually its Free Curbside delivery, which is basically the item is dropped outside by Mr. Delivery person at the curb for you to drag the unit into the house to un-box and assemble. But remember to keep all that packaging just in case it's damaged , you don't like the unit or it's smaller than you anticipated!
But wait all is not lost you can pay for the extra service of..
Inside Delivery $59.00 (Does not include set-up)
Certified Tech Set-Up (Includes Inside Delivery) $199.00 White Glove Delivery $200.00 (Which you will have to schedule for someone at a later date)
WOW that online bargain to save on sales TAX is starting to mount up already.
As the advertisements always say "But wait! there's more..."

Time for the piece of mind for your purchase
No Worries Service Contracts (that's where I come in to play)
1-Year In-Home Service $0.00 (mandatory requirement by the manufacture)
2-Year In Home Service $99.00
(Trust me I don't get close to that for a call out, hmm)
3-Year In Home Service $199.00 (should be called labor warranty as you wont get your unit serviced like a car)
Below is a picture of a brand new scooter purchased from an out of state online supplier which is exactly the same price we offer in our store without the added extra cost of delivery, setup and optional service expenses etc etc. Now this poor lady unboxed the item assembled it, plugged it in to charge it to find that the scooter wouldn't move. We were called out by this company to investigate the problem.
I arrived at the customers home to find one of two of the most common mistakes made by new scooter owners. The charger was left plugged into the scooter and secondly the brake/drive freewheel lever set in the the freewheel position.
Luckily for this lady who had just been discharged from the hospital had forgotten to take out the charger from the scooter which had triggered the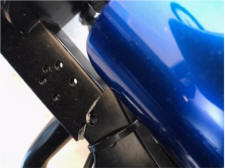 inhibit mode which stops the scooter driving off with the charger still attached to the scooter and the wall (good idea really don't you think)
After further inspection of the unit I noticed the tiller steering was extremely strange and loose and to my amazement the lower frame where the tiller meets the steering and main frame had completely sheered off both sides. (see pictures)
Luckily for this lady, if she had unplugged the charger from the unit and rode it this could of been a catastrophic incident and I'm sure more hospital time!!!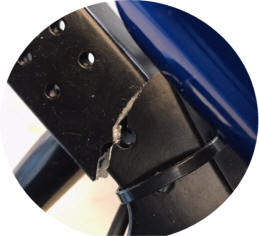 We feel that buying mobility products such as scooters online is not the correct way to purchase something that you have to rely on for your mobility and if used incorrectly can cause injury.
When you walk into our store we ask you some important question such as where will you be using the unit the most? Do you suffer with any balance issues? Will you want to transport the unit?
Then we move on to how well you fit the unit?
Some scooters might have a 300 lbs weight capacity but some of the smaller, more inexpensive scooters are not meant for someone who is six foot four with size 11 shoes. Being comfortable and having the ability to get on and off the scooter with ease makes a big difference to your purchase and that's something you don't get the chance to do by buying online.
'You can always send the unit back' I hear you say!
You're correct, but please please please read the online shipping and returns policy regarding boxing and returning - something that can also be costly and take time out of your day waiting for Mr. Delivery person to come and throw it back into his truck of destruction. But wait there's more don't forget the 20% re-stocking fee!! There goes that amazing online deal just melting away! But at least you'll have a FREE cup holder and Flag to wave around from your armchair.
Long and short of it all!
Scooters, power wheelchairs, vehicle lifts and power recliners are not like buying a pair of socks - they can be expensive and a costly mistake when you make a wrong purchase.
Buy once, Buy Right, and Buy local, Get the right advice, and take a test drive.
We offer Free Delivery to anywhere in Las Vegas
FREE white Glove Service
FREE set-up and operation and care instruction
Up to 2 year manufacture warranty FREE
Point of contact LOCALLY if something goes wrong
PURCHASES BOUGHT ONLINE
Please note: Due to all products bought online these units are covered by the suppliers first year service warranty and can NOT be handled by us. Please contact your point of purchase to schedule a service technician to come to your home. All custom products bought from spinlife.com such as the Go-Go Elite Traveller with white shrouds and buff seat and other Spinlife exclusive colors we can not get parts for these units and have to be handle by Spinlife.com only.